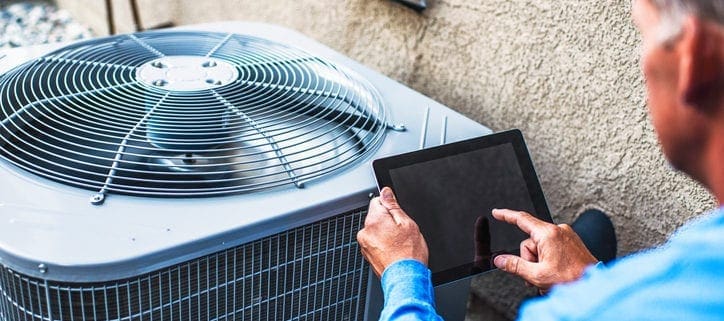 We may be on the road to fall, but recent weeks have brought some of the hottest conditions to our part of South Carolina. If your cooling system is running, you need to think about A/C service to keep things operating as they should. But what's included in an air conditioning service? Kevin Robinson's Heating & Cooling knows that every investment you make in your home is important. Here are a few things your contractor will do during the call.
Check the thermostat – The technician will calibrate your thermostat and make sure the batteries are fresh. Should they notice an inconsistency, they will fix the issue right then and there. If you still have an older, non-programmable thermostat, they may ask if you want to upgrade to a newer model. (These devices have been proven to help people better manage their home temperatures while saving money.)
Change the air filter – It only costs a few dollars, but your air filter is a vital part of your home's cooling system. Your technician will ask when it was last replaced. If it's time for a new one, they'll likely replace it during their visit.
Measure refrigerant levels – When they inspect the unit itself, they'll check a unit's refrigerant levels. These need to be consistent in order for the system to operate efficiently. Low levels will cause issues like compressor burnout.
Evaporator and condenser coils – Furthermore, the servicemen will inspect and clean your unit's evaporator and condenser coils. In addition, they will also check the entire condenser to see if it showcases signs of damage.
Electrical components – Also, you can trust that the service crew will check the unit's electrical segments too. They'll want to make sure that the electrical components are operating as they should.
If you need air conditioning service in the Lancaster, Kershaw, and Camden areas, talk to Kevin Robinson's Heating & Cooling. We provide air conditioning repair and routine maintenance on all makes and models. Call to see how we can help you today!
https://www.kevinrobinsononline.com/wp-content/uploads/2018/08/GettyImages-612818866.jpg
483
724
jmorrell
https://www.kevinrobinsononline.com/wp-content/uploads/2020/01/Kevin-Robinson-Logo-1.svg
jmorrell
2018-09-14 23:51:56
2020-12-17 19:53:39
What's Included in an Air Conditioning Service?