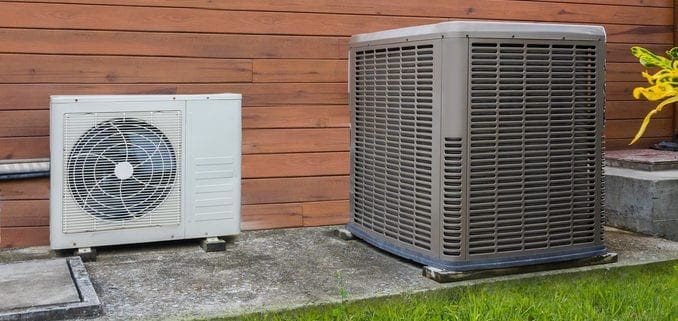 Tidying up your home is an important part of spring. But do you think about giving your A/C unit a good cleaning, too? At Kevin Robinson's Heating & Cooling, we encourage our clients to regularly service their air conditioning in Rock Hill and Fort Mill, SC. Here are some important reasons why you should consider this bit of  springtime maintenance on your air conditioning unit or heat pump.
Know the problems a filthy unit can cause. A dirty air conditioning unit can have a negative effect on your refrigerant, evaporator coils, and condenser coils. These three components help your air conditioner properly cycle air through the heat transfer process. However, dirt and dust that's accumulated on the coils over the winter can block the air from fully reaching the refrigerant. The refrigerant won't be able to effectively cycle and cool the air. If this continues, your unit will be strained and could eventually break down – leaving you to call for emergency air conditioning service on a hot day when you need it most.
Contact an air conditioning expert to handle the job. Cleaning your HVAC isn't a do-it-yourself job. Call a Rock Hill A/C repair service to take care of the task. When air conditioning contractors service your unit, they'll clean your entire unit as a part of the seasonal maintenance check.
Know what you can do to keep your unit clean. Although we always recommend letting only professionals handle your A/C unit maintenance, there are some things you can do to help. Clean off any twigs, branches, or leaves you see sitting on your unit, especially during the fall. Any type of debris can keep your unit from running efficiently.
When you need to service your air conditioning in Rock Hill or Fort Mill, SC, call Kevin Robinson's Heating & Cooling. Our HVAC technicians are highly trained, have years of experience, and are ready to come to your rescue when you need routine or emergency air conditioning service.
https://www.kevinrobinsononline.com/wp-content/uploads/2018/05/GettyImages-510960216.jpg
515
678
Jim Messer
https://www.kevinrobinsononline.com/wp-content/uploads/2020/01/Kevin-Robinson-Logo-1.svg
Jim Messer
2018-05-08 21:34:54
2020-12-17 19:53:41
Why Should You Clean Your Air Conditioning Unit This Spring?