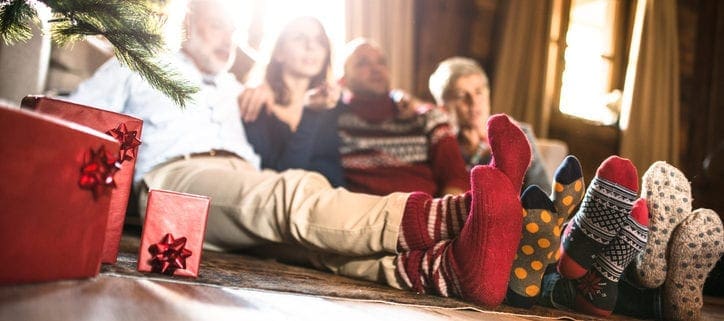 The holidays bring about all sorts of warm and fuzzy feelings. But when it's cold outside, you want to make sure it's warm inside. How can you make sure that your home is toasty for all your holiday gatherings? As your local heating repair provider, Kevin Robinson's Heating & Cooling can help you stay cozy all during the season so you can enjoy the time with friends and family. Check out these four tips for holiday heating tips:
Check up on your thermostat – We know this doesn't sound like common sense, but try to keep your thermostat about three to five degrees lower than usual this holiday season. Of course, you don't want your guests to freeze, but consider how many people will be coming over. If you have a packed house, the room will be naturally warmer. Adjusting your thermostat means you'll be more comfortable and will save a bit on your energy bill.
Put ceiling fans to good use – Make sure to switch your fan's rotation from counterclockwise to clockwise. Running the fan will move warm air down where you can feel it. Your thermostat will pick up on the change and cause your heating system to run less.
Change out your filter – Don't forget to change out the filter on your heat pump or furnace. Filters need to be replaced every so often to improve the air quality and the flow of warm air through your household. Neglecting your filters can quickly lead to heating trouble. If you're planning on being a holiday host, be sure to change out the filter beforehand to avoid any issues.
Call for servicing – Finally, we always recommend that homeowners call us for a heating inspection this time of year. This way, if there's a problem with your heating system, you can get it fixed before it causes a shutdown of your unit.
Need heating repair? Call Kevin Robinson's Heating & Cooling whenever you need service on your heat pump, furnace, or other HVAC system.
https://www.kevinrobinsononline.com/wp-content/uploads/2018/11/GettyImages-492780876.jpg
483
724
jmorrell
https://www.kevinrobinsononline.com/wp-content/uploads/2020/01/Kevin-Robinson-Logo-1.svg
jmorrell
2018-12-21 16:33:03
2020-12-17 19:53:36
4 Tips for Holiday Heating